One of the most rapidly changing aspects of video surveillance today is the improved performance of low-light cameras, which have made tremendous strides in leaving behind the bad memories of poor performance that pervaded the space just a few years ago.
In the early days, cameras' low-light video typically consisted of monochrome or black-and-white video, supplemented by external white or IR lighting. This severely limited the visual data that could be pulled from it and reduced video to flat imagery
When the best possible video was needed from a single camera for both day and night, some vendors offered dual-sensor cameras with one WDR (wide dynamic range)-capable sensor for high-contrast daytime use and another black-and-white one for night-time use, switching between them at a present lighting threshold. While these technologies continue to have some play, newer technologies have made big strides in improving low-light imaging.
Low-light technology has greatly improved in recent years, with some notable achievements just in the past year, for example, cameras can now provide colour images in low-light — an important new tool for a security director.
The Shifting Role of External Lighting
More than ever, end users have the ability to capture almost daytime images or much brighter images than they are in actual life and can use low-light cameras without needing additional IR or LEDs to add light. As a result, external lighting has almost become a thing of the past.
Obviously there are situations or use cases where it's important to have IR or colour or white light LEDs, but those are becoming more of a safety net for when you need to cut over to capture something as opposed to being the first move. Whereas for a long time you needed a camera with LED because you just couldn't see as well. That's shifting in a very interesting way where someday we might not need LED or it'll just be for those pitch-black, zero-lux situations.
The overall improvement in low-light performance is due in large part to the combination of advancements in individual areas.
Today's low-light performance is far better than cameras of yesteryear: Higher frame rates, higher resolution and longer range represent some of the advancements
In fact, today's cameras have evolved to the point where colour images are possible at light levels that would have been unheard of in recent past.
The advancements in low-light technology have greatly improved sensitivity in today's IP cameras and enabling capabilities to capture colour images in as little as 0.1 lux, Previously, only monochrome IR images were possible at these light levels.
Additionally, as low-light technology has matured, manufacturers have introduced a variety of cameras that are accessible to customers at different levels.
Highly effective low-light technology is now available at a variety of price points, so that SMBs as well as enterprise customers can improve security using this new technology,
Sensor Improvements
Perhaps the biggest factor in driving better low-light performance can be traced to enhancements in sensor technologies.
Improvements in sensors have made a major difference, 4K is growing in familiarity, while 5- to 12-megapixel single-sensor cameras have become increasingly common. The sensors in these cameras have higher pixel counts and are much more sensitive than their predecessors, able to provide superior imagery day and night, all by themselves.
Of particular note is the industry-wide shift from CCD to CMOS sensors, which are not only less expensive to manufacture, but also offer a more flexible approach in how pixels are read and processed.
Back in the day, CCD was great; it was amazing, But CMOS enabled us in the digital space to be able to do more, and it's created a huge trajectory path.
In addition to the move to CMOS, some sensors today are purpose-built for light sensitivity.
Low Light & Video Analytics
As video analytics are increasingly applied in security installations, low-light technology has become even more important in outdoor scenes or in areas with minimal ambient light at night, where analytics will be employed.
The accuracy of video analytics relies on the quality of the images produced. To alert, for example, on possible perimeter breaches in dark areas, the video analytics will need sufficient image quality in order to detect accurately when a person is climbing a fence or loitering near a perimeter.
The performance of analytics in low light all boils down to the old "garbage in, garbage out" philosophy, which largely has been overcome with sensor technologies that drive higher-quality imaging.
 The addition of back-illuminated sensors has resulted in improvements to sensitivity by placing the sensitive surface on the opposite side of the camera to the chip wiring, ensuring more light reaches the pixel,
An increasing number of general surveillance camera vendors are exploring a number of new sensor types that could be added for further improvements, including for day/night use,
Instead of expensive and very limited-use thermal cameras, more vendors are exploring adding thermal imagers, RGB colour sensors, and even more, all potentially to be combined with traditional image sensors. These developments will add more useful video and other data, while maintaining affordability.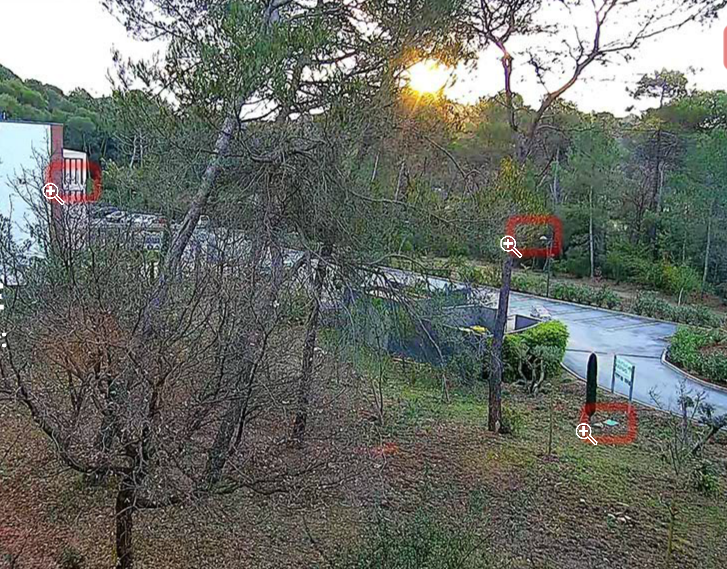 Processing Power
In addition to camera sensors, improvements in chipsets also have gone a long way toward providing additional processing power to run more complicated algorithms for low-light image processing to render more activity and better adjust to scenes.
The camera can take that information and process it in a much more effective way to produce cleaner data. Where you have a high level of noise, you can't run some of these advanced technologies, because all they're going to do is amplify the noise. But if you started with reduction of noise, you can reduce that much more substantially.
It's almost a compounding effect, because you're able to have a higher degree of confidence in the other pixels. The ability to reproduce low-light images in highly detailed colour has been a key factor in driving the continued improvement and evolution of low-light cameras.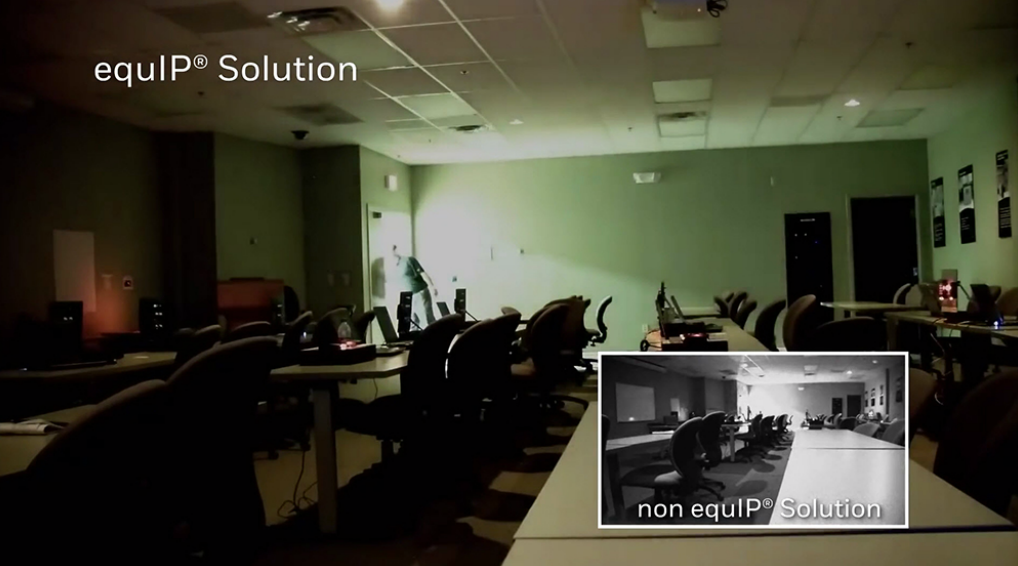 Thermal Imaging
While low-light performance in general continues to improve, in some cases, thermal cameras may make better sense for integrators and their customers,
Thermal imaging is becoming increasingly competitive in today's market due to its flexibility in zero light and highly variable lighting conditions, while thermal cameras provide strong reliability with detection capabilities over greater distances, it's important to keep in mind that thermal cameras do not provide colour or other details required for recognition.
It certainly helps that thermal imaging, which was once viewed as an expensive proposition, is becoming increasingly more affordable as an option for extreme low light or total darkness situations. As such, it often is used to complement low-light cameras in certain applications.
Colour in the Dark
Technologies that deliver colour images in low-light situations have been on the market for a number of years, and have dramatically increased the amount of video data that can be obtained from an image, adding the high level of detail that colour can provide.
Advanced low-light cameras can now provide full colour images in the dark — even down to 0.0069 lux. Colour images in low-light conditions are important, as they aid in identification capabilities, such as for determining the colour of a vehicle or of an article of clothing worn by a person of interest.
More recently, colour nighttime imaging has become prevalent in multi-sensor cameras, combined with integrated IR illuminators in the some of the best models.
Just as for daytime applications, multi-sensors reduce the number of cameras and infrastructure required, while providing continuous surveillance of the entire area, and making the camera more useful at night time is important to many customers.
Wide Dynamic Range
For low-light scenarios, the combination of a large low-light sensor, large aperture lenses and proper backlighting — or IR illumination — is vital for optimum performance. It is also important that cameras offer performance-enhancing features and functions, such as wide dynamic range (WDR) for situations with both bright and dark areas,
The lens used must also match the camera's performance, thereby getting as much light as possible onto the image sensor so images are clear.
Customization
Given the continued, rapid advancement of low-light technology, there may be a temptation to pull a camera out of the box, install it and expect it to work perfectly.
In the majority of scenes it will work fine and meet their expectations, but you'll run into that percentage of situations that are just more complicated, where there's something in it that's making it more challenging.
These challenges might include a complete lack of lighting or differing light dynamics, such as a mix of IR lighting and street lamps, which can create difficulties for the sensor to capture light optimally.
It's important to understand that camera settings and the software and algorithms they employ are not static. You can make changes to adjust it to the scene if it doesn't meet the needs of the scene immediately.
AI & Low-Light Performance
If it seems like artificial intelligence (AI) is expanding into almost every aspect of our lives, that's because, for the most part, it is. Just as AI is being used to improve video analytics today, the technology could play a major role in tomorrow's low-light performance improvements.
In the future, we can expect AI technology use in cameras or externally to make major improvements to low-light technology, further enhancing the video received, recorded and transmitted by the camera.
This is particularly important when evaluating cameras, as different manufacturers' offerings offer different levels of customization.
Many premium-branded camera manufacturers use advanced optics and an off-the-shelf high-quality sensor that can increase light sensitivity dramatically. However, the ability to then tweak and fine-tune the process is what differentiates one manufacturer from another.
The bottom line is no matter how good the technology may be, integrators should at least look at its customization capabilities to determine the best fit for a site.
Don't go in thinking that it's going to be the best out of the box. It can be phenomenal, but if you're not happy with it, don't think that it's broken and just throw your hands up. You have the opportunity to make it phenomenal for yourself.
Looking to the Future
Low-light technology has moved a long way from just a few years ago, and the technologies that drive vendors' offerings will continue to change in the coming months and years.
Both single- and multi-sensor cameras now offer improved low-light technology, and the availability of colour imaging at night is important in providing more useful information. Stay tuned, and continued improvements in sensors, algorithms, and soon AI technology will all contribute to even better products in the future.
Source: https://www.sdmmag.com/articles/97103-low-light-camera-performance-continues-its-rapid-rise