The Texecom Connect App is a smartphone app for Android and iOS devices.
Texecom Connect uses technology to make people's lives easier, not more complex.
Allows us to deliver enhanced smart solutions for both commercial and residential customers without compromising on core security principles. With Texecom Connect, we are able to offer a secure system with the additional benefits of automation, smart management and flexible control, all from Texecom's Premier Elite range of control panels.
The Texecom Connect concept is a very simple one. At its heart is a professional quality graded intruder alarm system that uses the proven Premier Elite range of control panels. Along with the intruder alarm system, we can offer a more immersive experience for the customer, allowing them to take control of the system, along with other peripherals such as video, lighting, power management and smart control of household appliances.
Texecom Connect is compatible with all Premier Elite control panels, including legacy systems via a firmware update. Texecom Connect enhances Premier Elite alarm systems with the addition of an app, smart communicator and API. Together these allow end users to engage with their intruder alarm solutions in an intuitive and flexible way, ensuring that advanced security, building control and site automation can all be managed easily and securely from any connected and authorised iOS smartphone or tablet device.
The Texecom Connect App is designed to provide an environment where end users actively interact with their home, enjoy the new possibilities that are open to them, and deliver the peace of mind that comes with knowledge and control.
The Texecom onnect App has been carefully designed to allow end users access to an array of custom features, to tailor their app experience for their own personal and particular needs, without resorting to complicated programming.'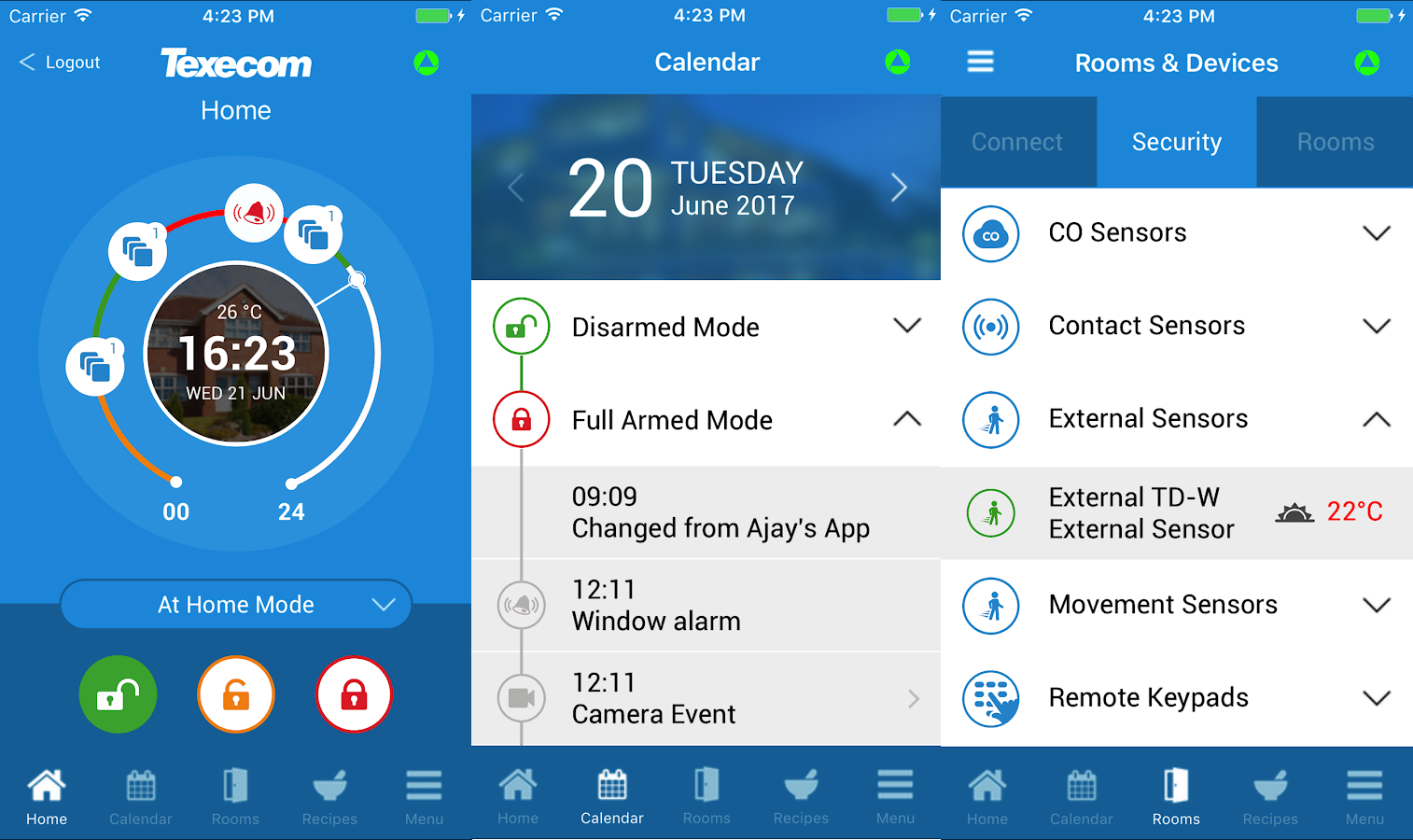 Connect your life to your home and your security.
Texecom Connect transforms the experience of interacting and automating your home or business. It provides an environment where you want to interact and enjoy the new possibilities open to you, delivering the peace of mind that comes with knowing you are in complete control.
The Timeline
Central to the Texecom Connect App experience is the timeline. Events are clearly presented, giving you instant access to review events that have transpired, and also to plan and modify predicted events or changes in system status.
Calendar
The calendar offers a detailed day-by-day record of the previous two weeks events, with one week of recorded video footage. By accessing the calendar, users can view past activity including device activations, home automation recipes and system mode changes. Recorded camera footage can be viewed directly from the calendar as well as the option to view live camera footage.
Create your own home or business automation
Texecom Connect puts you in control of building automation. Make lights automatically turn on when you enter a room. Make sure that your hair straighteners are turned off when you leave the house. Receive notifications when your kids come home, or a parcel is delivered while you are at work. Personalise how you automate your home as with Texecom Connect you can do it all, your way.
Devices
During commissioning of the Texecom Connect App, security alarm devices are mapped into rooms by the security installer, making these devices accessible to the end user for home automation.
Rooms
Devices are allocated to rooms within the Texecom Connect App, which makes locating devices and creating home automation recipes from multiple devices in a room easy and intuitive.
Recipes
Recipes are a user-friendly way of describing the programming actions that are used for automation. The Texecom Connect App is programmed on the basis of 'cause and effect'. Example recipes include, 'when I enter through my front door and it is dark outside, turn on my hall light' or 'when someone is detected at my front door, send a notification message to my phone'.
Modes
A mode is a state in which you would set there home, e.g. holiday mode, bed time mode, day mode. This is a key 'short cut' that you can use to put your premises into a known state depending on how you want to use the system. For example, in 'breakfast mode', we might expect the system to be disarmed, kitchen power sockets on and kitchen lights turned on if it is dark outside.
Cameras
Texecom Connect is compatible with IP cameras that support JPEG video formats. View live footage from your Texecom Connect app, anywhere in the world, and locally record video to your smartphome.
Users
Texecom Connect puts you in control of who can use the Texecom Connect App and the level of access for each user.